Harris Motorsport Intercoms offer intercom models to suit The New Zealand professional and armature teams alike. Harris Race Radios are the authority when it comes to Intercoms with models designed to benefit various noise levels, and include additional functions like Bluetooth, radio and camera connections. This is why Harris Intercoms are the choice of champions throughout New Zealand and Australia. We have a great selection below. If you have any questions please get in touch with our expert sales team.
Intercoms & Parts
We have a large range of intercoms for all types of applications, and Manufacturers, Rally, Taga, Jetsprints, offshore, Driver training etc. Harris Race Radios, Stilo, Teratrip, OMP, Peltor, Etc.
We service all brands.
---
All Harris Race Radios Intercoms are made with the highest quality components by highly educated technicians. Tested by our own race teams and Radio Engineers in the harshest conditions and packed full of features that will make for a more efficient day of racing and more enjoyable day in the florist or race track. Make sure you contact us with any questions or queries you may have.
Be sure to check out the upgrade options for PCI exclusive Smart Bluetooth and Digital Signal Processing.
Off-road Intercoms
Rugged Radios – Intercom
Rugged Radios intercoms and systems.
We offer a range of off-road specific intercom for all our off-road customers.
The intercom connects everyone in your vehicle for hands-free communication through headsets or helmet speaker and mic kits. Have crystal clear conversations in high-noise environments with RR intercoms . Our recreation intercoms can include a number of features including Bluetooth for music streaming and cell phone connectivity, automatic music dimming with our voice activation (VOX), built-in Push-To-Talk (PTT) buttons, and are two-way radio ready for car to car communications.
BLUETOOTH INTERCOMS FOR IN-CAR COMMUNICATIONS
High fidelity audio
2-4 person connectivity
Bluetooth on most models
Two-way radio ready
Easy to use interface
Adjustable VOX setting
Affordable to full featured intercoms
PURPOSE-BUILT RACE INTERCOMS FOR UTV, TRUCK, BUGGY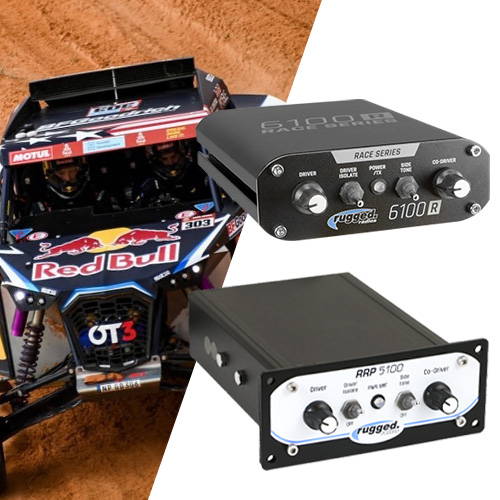 Live mic operation
Independent Driver / co-Driver volume controls
2-way radio ready
Driver isolate on select models
Side tone on/off on select models
Satellite phone interface
DSP Chip ready
UNIVERSAL INTERCOM KITS FOR ANY VEHICLE OR CUSTOM BUILD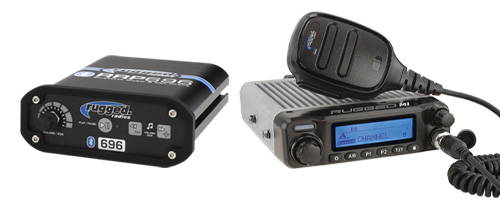 Kits without specific OE mounts
For any vehicle and custom build
Includes intercom and 2-way radio
Bluetooth music streaming
BUILD YOUR OWN INTERCOM KITS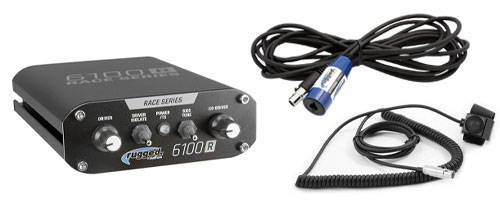 Ideal for existing helmet kits or headsets
Essential communications
Intercom and driver/co-driver cables
Most kits include Push-to-Talk buttons
ADD MORE PASSENGERS WITH INTERCOM EXPANSION KITS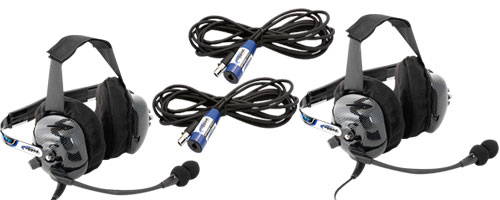 Easily add 2 additional persons
Choose headset or helmet kits
Incudes 16′ rear seat cables
Plug-N-Play connections
Wireless Bluetooth Headset
Full Duplex Bluetooth operation
Push-to-Talk on eardome
Full flex mic boom
Volume control on eardome
Rubber coated eardomes
Dynamic Noise-Cancelling Mic
INTERCOM CABLES, EXTENSION CABLES, HEADSET ADAPTER CABLES
Intercom cables
Extension cables
Headset and helmet kit cables
Race Series cables
INTERCOM NOISE FILTERS, ROCKER SWITCH CONTROLS, WEATHER PROTECTION, AND ACCESSORIES
Noise filters
Rocker switch controls
Weather protection
Rocker switches
Digital Speech Processor Chips
Ground Straps
COMPLETE RADIO AND INTERCOM OFFROAD KITS FOR YOUR UTV AND SXS
Complete intercom and radio kits for UTV's
Shop by UTV
Intercom, 2-way radio
Bluetooth music streaming
Choose headsets or helmet kits
Includes factory style mounts