Brown & Geeson was established in 1963 by Ray Brown and Arthur Geeson.
New Zealand Agent for B-G Racing Car World leaders in Motorsport gauges and Setup Equipment, Mirrors, String lines, QR Steering Wheel Bosses, Caster Gauge, Camber Gauges, caster gauges, Scales, motorsport alignment gauges, Harris Race Radios.
Vehicle Equipment B-G Racing
News
Harris Race Radios is the B-G Racing distributor for New Zealand. Vehicle set up equipment, string lines, Scales, caster camber gauges, wide angle mirrors racing, QR steering wheels adapters, motorsport alignment gauges, Etc.
Toe Stick "Pro" Kit The B-G Racing Hub Stands Toe Stick Pro Kit is a revamped version of the existing Toe Stick and Toe Stub set up and features a pair of sliding, laser-etched measurement scales that make reading the values quick and simple.Designed for use on the B-G Racing Hub Stands kit, the Pro Kit has been manufactured since March 30th, 2020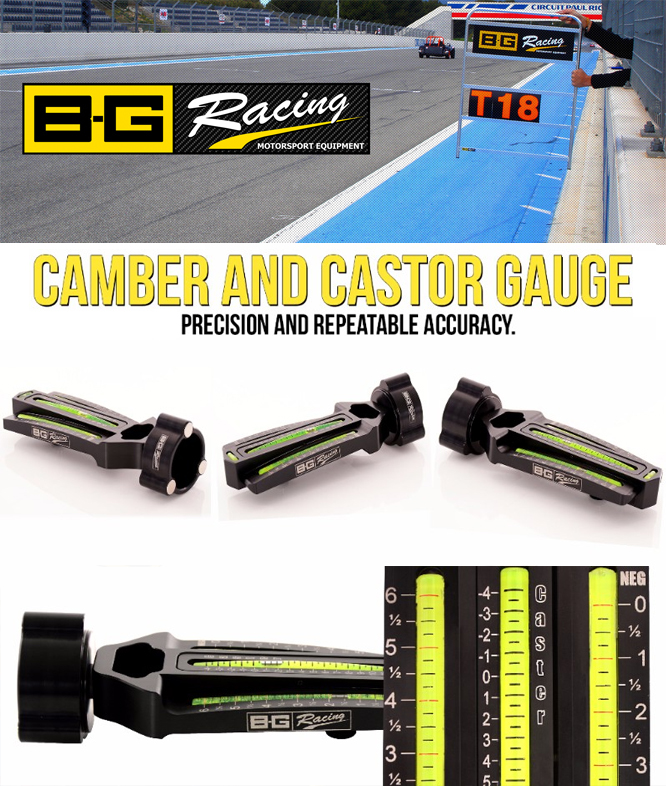 Camber and Castor Bubble Gauge The B-G Racing Bubble gauge is precision CNC machined with a tough billet alloy casing which accurately measures to +/- 6 degrees camber and -4 to +12 degrees castor, clearly displayed on separate positive and negative vials. A stepped design ensures all vials are aligned to the hub centre line… April 24th, 2017

B-G Racing String Lines – The Ultimate Alignment Tool B-G Racing String Lines are the easiest and most accurate way to achieve four wheel alignment on almost any car. The String Lines frame is fully adjustable to allow fitment to a wide range of cars and attaches to the vehicle using the rubber coated Hooking Arms which are all interchangeable to a… March 23rd, 2017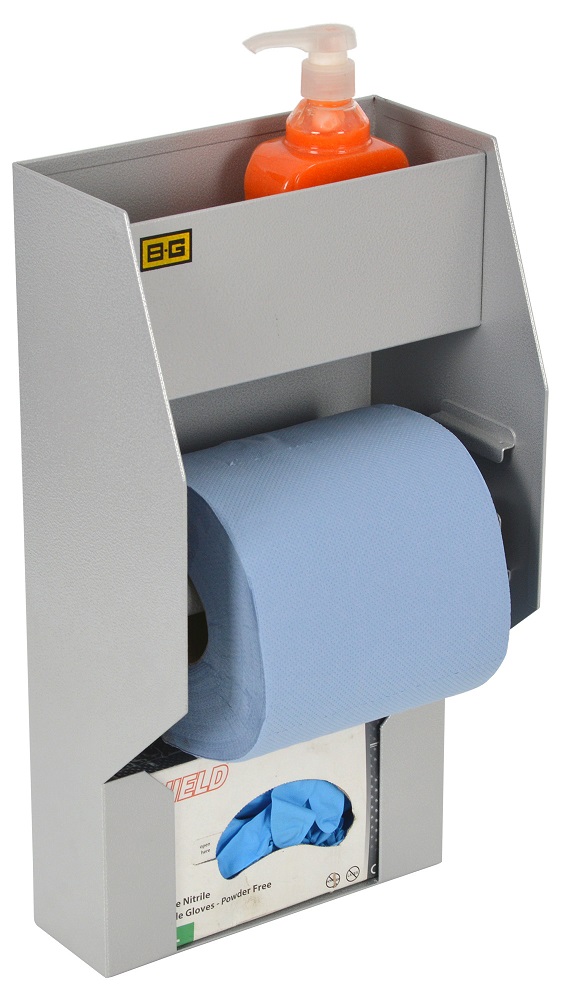 Wall-Mounted Work Stations The B-G Wash Station offers neat and tidy storage of hand cleaner/sanitiser, paper towels and gloves whilst doubling as a dispenser for the workshop, truck or trailer.Manufactured from mild steel with a durable silver-grey powder coated finish, the Wash Station features a paper towel roll holder, a … March 30th, 2020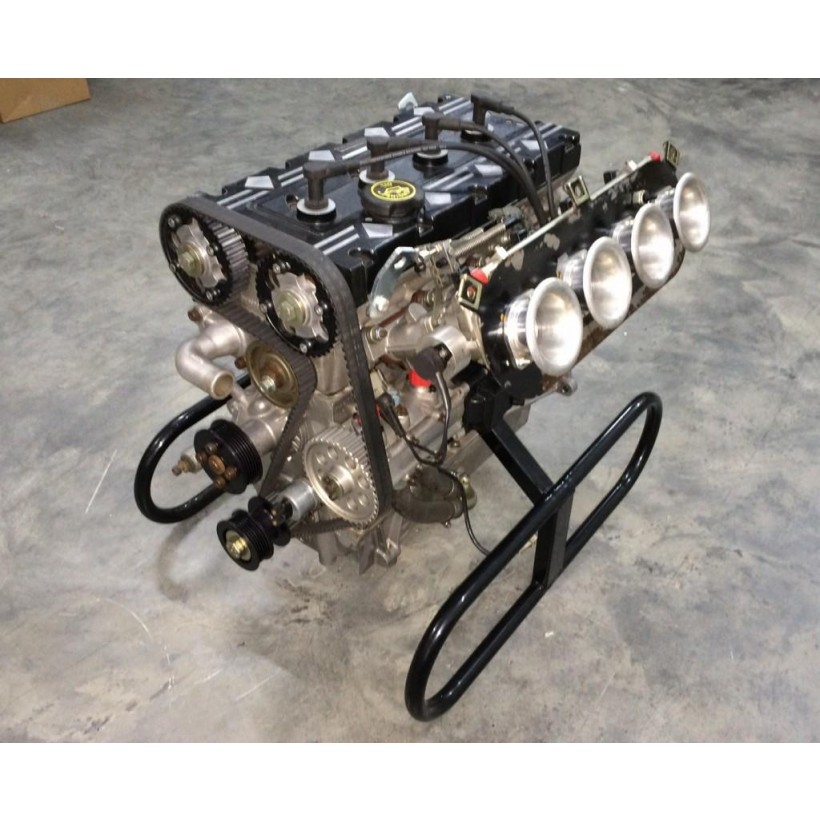 B-G Engine Carry Stands for various Ford Engines Designed to safely store and transport engines when removed from the vehicle. Simply bolts straight on to the engine block.Suitable for most 4-cylinder Ford engines: Pinto, X-Flow, Lotus Twin Cam, BDA, BDG etc.Tubular mild steel construction with a durable black powder coated finish.Sold as a pair: … March 27th, 2020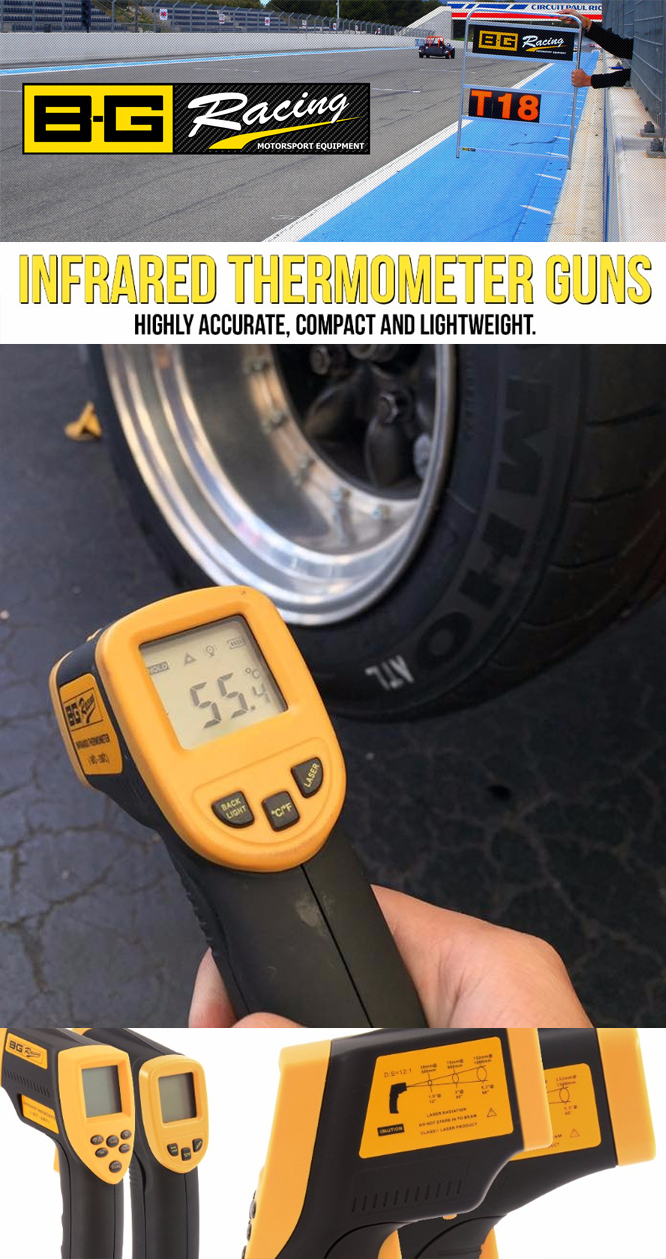 Tyre and brake temperatures are critical – Perfect tools for the job! The B-G Racing Infrared Thermometer Guns are both compact and lightweight; featuring a laser sight, Celsius/Fahrenheit selection and adjustable emissivity, they are both fast and highly accurate pyrometers giving instant non-contact surface temperature readings from either -50 to 330°C (-58 to 6… April 11th, 2017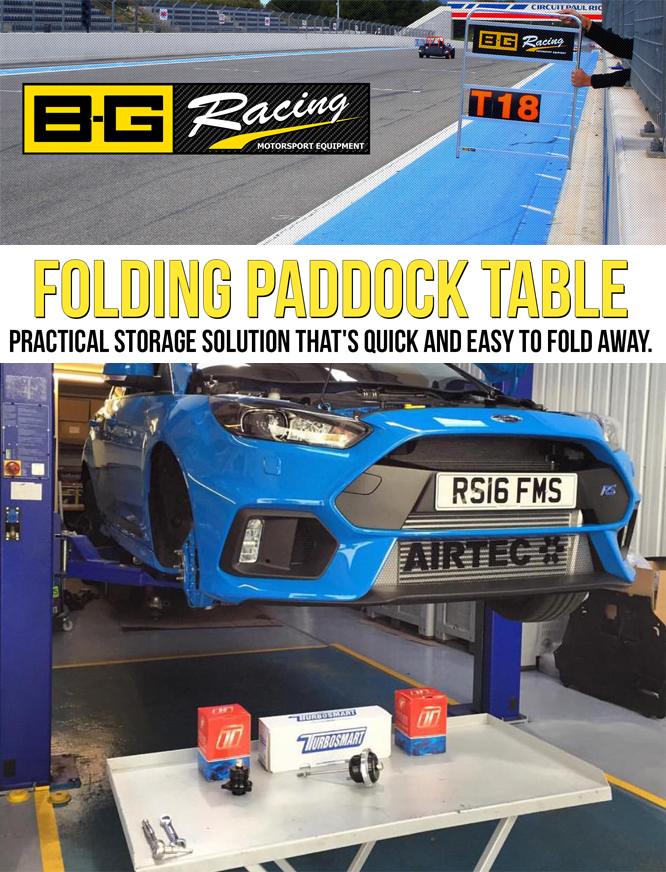 The Race Season Is Fast Approaching… The B-G Racing Folding Table is designed for use in the pits, paddock and back in the workshop. Nearly one metre in length and half a metre wide, the Folding Table is large enough to hold all the tools you are ever likely to need, which will stay where they're put thanks to the raised table edges.Th…